Get your hands on a budget-friendly Confidence Fitness Magnetic Manual Treadmill
 Start your fitness journey with Confidence Fitness Magnetic Manual Treadmill today because this one is affordable. The only thing that we need to know these days for our workouts is an affordable option. Despite not having advanced features but it is still providing an efficient workout that we all need at home. What is so special about this? Well, this machine has a low incline range to help out in achieving your fitness milestones.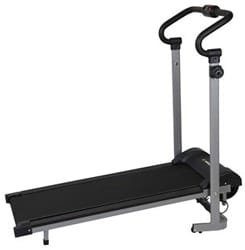 Confidence Fitness Magnetic Manual Treadmill is a reasonable effort by a company that has designed this for, particularly home gym. If you all are looking for some great additions in your home gym, then this one would be an excellent choice for all the people. We have listed the central aspect of the best treadmill that helps everyone in purchasing.
Who else hasn't decided the treadmill yet for a home gym? Are you looking for an affordable and simple machine for a home gym? Choose the Confidence Fitness Magnetic Manual Treadmill because it may properly serve your needs.
Features of Confidence Fitness Magnetic Manual Treadmill
Incline: Its incline is very gentle and not adjustable as well. You all may have to put extra stress while walking and running.
Folding: Confidence Fitness Magnetic Manual Treadmill is foldable, and once you are done with the complete workout, you can easily transport from one place to another because of lightweight and easy to store to save space.
Adjustment levels: it has different 8 level adjustments because it won't allow intense workouts, and it doesn't have any motor too. It may require extra effort to keep you in work and achieve a goal. Workout might be challenging, as well.
Display: It has a multi-function computer that is for displaying the daily workout statistics, including time, distance, speed and burned calories.
Warranty: The company offers a one-year warranty, so get this product from the manufacturers directly to avoid other retailers.
Dimensions: This machine has a large deck, and its dimensions are 47.2'L x 19.1" x 48" H.
Built-in Wheels: Confidence Fitness Magnetic Manual Treadmill has built-in wheels to ensure easy movability, and we can change the place for workout wherever we want.
Weight capacity: Confidence Fitness Magnetic Manual Treadmill can carry up to 220 lbs. Weight, so it's not ideal for heavier users.
Locking pin mechanism: It has a locking pin mechanism to lock the deck for vertical position securely.
What's impressive in Confidence Fitness Magnetic Manual Treadmill?
Budget-friendly

No assembling required

8 different adjustable level

Silent machine

Easy to storage

Wide running deck

Easy to use
What's Not Impressive
Warranty

Fixed Incline

Not ideal for running
What do you think is it actually for you?
Nowadays different type of treadmills is available in the market, and we can't resist their high-end features, but while using this Confidence Fitness Magnetic Manual Treadmill you people will experience different thing. It provides several benefits, although it has no motor and considered as environment-friendly.
Easy to operate. For all those who are interested in buying affordable equipment, this machine is for them to boost their morale during a workout. No annoying noise will be experienced as compared to a motorized treadmill. By keeping these features in mind, you can prepare yourself either it is ideal to meet your fitness needs or not. Beginners can enjoy their workouts on this.
About Confidence brand
Confidence is one of the best brands that have been offering the highest quality and affordable machines to motivate people for achieving your fitness goals. They provide high-end technology features to compete with market needs. A wide variety of products are manufactured by the company. The brand has so many options in treadmills of basic design treadmills, and they offer ellipticals, bicycles and much more.
How Can this Treadmill Enhance Your Workout Ability?
You may have seen numerous treadmills by different brands that enhance the workout stamina of people to go further. With this fitness machines, you can adjust the magnetic resistance to help you take a stride on the belt.
If you are not an advanced runner, then this machine is not for you because it can't do anything for you but for beginners who have just made up their minds, they can opt this but seriously as a beginner it is a great treat for people. It has a simple locking pin mechanism to enable beginners to lock this for future use, and you all can easily use this for future use.
What about its construction?
Let me add one thing here, Confidence Fitness Magnetic Manual Treadmill is made up of steel frame, and it also has handlebars to provide you support and safety during a workout. This treadmill is affordable and doesn't come with moto, so the only belts are available to keeping you up with the help of belts to take strides. Smooth magnetic resistance is for giving you the best of your workout. Its construction is up to the mark, so we don't need to be worried about this.
What customers say about this?
Customers are pleased with this type of treadmill, which is environment-friendly and budget-friendly too. Everyone is so satisfied with the use and the machine gives an excellent workout with this incline range. Although the belt needs some adjustment, it is satisfactory for people also. So, in short, we haven't seen people complaining at this price. For runners, it's essential to hold the handles for avoiding injuries. Fully-assembled the machine with sturdy frame what else they can have at this price.
Our Final thought:
We believe this treadmill is ideal for those who want to put extra energy to move forward with legs. Whoever is planning to work on legs, they can have this machine for home use to enjoy a different type of workouts. Ideal for walking and light running. Price is budget-friendly so all who have budget issues can opt without wasting time on the selection of other equipment. Enjoy workout because of this machine.