Overview of Exerpeutic 2000 Workfit Desk Station Treadmill
Get ready for the details of Exerpeutic 2000 Workfit Desk Station Treadmill because this one is the best treadmill at affordable prices for those people who are looking for low impact treadmills. So, no worries if you are looking for a healthy routine but unable to join the gym because of a busy schedule, this treadmill needs your attention.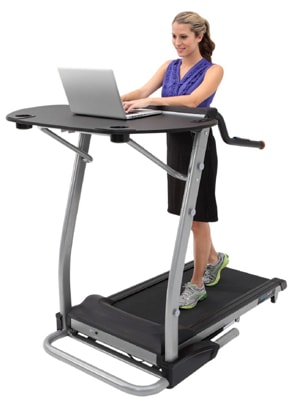 Exerpeutic 2000 Workfit Desk Station Treadmill offers an effective way to burn your calories. It has so many high-end features that are available in costly machines, but this is for improving your health & lifestyle to increase productivity in your daily routine. This treadmill deck keeps blood circulation excellent and ideal for all age groups.
We all know about Exerpeutic manufacturer who has been developing excellent machines for a healthy lifestyle, and they are continuing to do this so by winning the trust of people. We are going to let you know some high-end features and good as well as bad things that help all users either they need to avail of this or not.
Features of Exerpeutic 2000 Workfit Desk Station Treadmill
Display: 

This treadmill has a blue backlit display to help you people keep track of elapsed-time, walking distance, speed, and burnt calories.

Large desktop: 

it has large desktops to keep all the extra accessories. It is equipped with full-length PU foam arm & wrist support to lean on the desk. It can hold tablets & iPads, as well.

Incline: 

Its incline ranges from 0% to 5% with convenient buttons to easily control the incline levels. It's a bit easy for the user to set a particular incline for a workout.

Tread belt

: its tread belt is 20" wide & 40" long which is good enough for running for taller users.

Motor: 

It has 1.5 HP motor with 4 mph speed to achieve challenging workout.

Space-saving design: 

It can be easily folded up to ensure quick & easy storage for small homes.

Heart-rate monitoring: 

Exerpeutic 2000 Workfit Desk Station Treadmill allows us heart rate monitoring to measure hear-rate. It has pulse-sensor pads.

Weight capacity: 

It can carry up to 400 pounds, and this is the main reason for its heavy-duty metal frame to support people during a workout.
What's impressive in Exerpeutic 2000 Workfit Desk Station Treadmill?
Durable equipment

Foldable & easy for storage

Incline range

Metal desk

1.5 Hp motor

18" long handles
What is Not Impressive
Ideal for walking only

Desk can't be adjusted vertically

Bit expensive
How do we see its design & Build quality?
Well, if we talk about Exerpeutic 2000 Workfit Desk Station Treadmill design, then it is ideal for walking only and not recommended for running. This treadmill is space-saving and can be stored easily to fit easily wherever you want. Heavy-duty design is gaining the attention of everyone and provide an excellent workout.
It has 18" long handles to give a strong grip during a workout. Its design is sturdy because it is designed for carrying up to 400 lbs. High stability is essential for exercise, and you can get with this. We can say its build might have taken enough time in designing to provide stability to all the fitness freaks.
Treadmill Assembling:
Well, it's not like the other models of energetic which is easy to assemble, but this desk station treadmill needs two people to get involved. It takes a maximum of 2 hours because it is already partially assembled but needs to do some work as well. Its box has manual instructions to read it carefully for an easy walk. All the necessary tools are given to assemble this gadget.
About Exerpeutic
Exerpeutic company is known for offering smart fitness because they aim to give you a healthy lifestyle and this would be possible with the selection of the right devices. The company offers exercise bikes, elliptical trainers, treadmills and inversion tables to keep you fit and energetic.
They have been in this field for years, and this is the reason it has successfully gained the attention of people in a short time. They never compromise on quality and striving for high-end features compatible with the latest models. Prices are affordable, so everyone can have this for their home gym or workspace.
Why is Exerpeutic 2000 Workfit Desk Station Treadmill not for running?
This treadmill is only for walking not for running because it has a very minimal speed of 4mph. We can fold this desk and easily store it. Its tread belt has 40" length that is not ideal for running so we can say this is for a walk not for running. There is so many others model as well for running so you can have those models to improve your lifestyle and workout routine. Take the help of professional experts they might recommend something great for the running treadmill.
What customers say about Exerpeutic 2000 Workfit Desk Station Treadmill?
People have mixed reviews on this they are loving its sturdy construction and finding this equipment feasible for the offices or home so you can burn calories wherever you want. The company always provides a simple and basic design which is a good thing for beginners to operate.
The treadmill is a bit expensive as compared to other walking treadmills of different companies. The desktop can't be vertically adjusted, which is not impressive at all so it should be adjustable. Speed is meager, which is not suitable for running, so it should be more significant to go faster during a workout.
Our Final Thoughts
This treadmill is equipped with high end-features to give you people an effective workout so you all can work out wherever you want while in office or home. The sturdy heavy-duty steel frame is solid, and the user can easily do walking while using Tablet & iPad. A bit expensive is not a good thing because it has not impressive features at this price.