Get Gold's Gym Trainer 720 Treadmill with comfortable cushioning
It's a golden opportunity for all the gym freaks to get a Gold's Gym Trainer 720 Treadmill at an affordable price. You all might have been looking for some amazing gym equipment that should help you in losing weight and this treadmill fulfill your all weight loss requirement by doing some energetic workouts over this machine.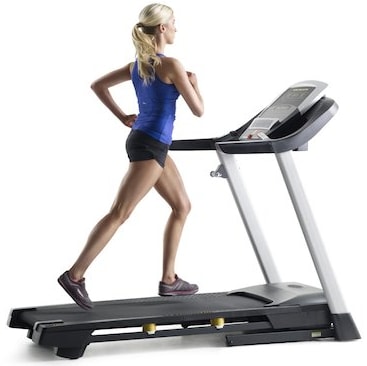 Get ready to have this fitness machine at an affordable price. A vast range of Gold's Gym company gives you a variety of the best treadmill for home and Gold's Gym Trainer 720 the Best Treadmill is the one that you all need for your home gym. Get your hands on and we can assure you it will give the best possible value. Easy to fold and doesn't matter you have space issues it will automatically save the space and give you the best thing for your home gym.
Gold's Gym Trainer 720 Treadmill is designed with different features and you can do a variation of workouts on it. Let's have a look in this blog and you will get to know how amazing this equipment is and giving you desired shape by keeping you slim & fit.
Let's discuss Gold's Gym Trainer 720 Treadmill features
Motor: Gold's Gym Trainer 720 Treadmill has 2.5 HP motor and I believe this is one of the decent speeds that improve fitness.
Running Tracks: Tread belt has a dimension of 19 x 60 inches and it has been designed to reduce the joint impact while working out. It also has AirStride cushioning system to reduce the effect of fatigue & keeps you stronger from joint pains.
Console: Its console is large enough and easy to read all the functions and so you people keep an eye on fitness goals by tracking all the improvement. 3 LED windows are available to display workout information.
Warranty: It has a lifetime warranty on frame and 25 years warranty on a motor with a 1-year warranty on mechanical parts. We believe this is fair enough in this price.
Workout programs: It has 18 pre-installed workout programs to give you so many variations in a workout. We can also select this with Quick Select buttons
Speed: When it comes to speed variation then speed parameters range between from 0 to 10 mph speed with incline adjustment in between 0% to 10%
MP3 compatibility: Do you know people it is compatible with iPod & Mp3? It changes our mood by connecting your music device with the treadmill to enjoy the beat on our favorite hits. The treadmill has multi-purpose holders & audio jack.
Heart rate Monitoring: Only EKG hand pulse tech built with sensors are used to check the heart rate.
Fans: It also has built-in quality fans and we can change its speed as per our needs. 
Customer support: Gold's Gym give a chance to their clients via phone, live chat & email and also provide a 30-day trial.
Folding: It can fold up easily and need to be secured with the help of a spring-loaded pin.
What's impressive in it?
  18 different workout programs

  LED multi-window display console

  Quick Select buttons

  AirStride Cushioning

  Extra-wide deck & heart rate monitor

  Warranty

  Budget-friendly

  Space-Saving Design

  10 MPH max speed
What's not impressive in it?
  Overall Cheap Quality

  Less impressive running area

  Noisy sometimes

  Not ideal for advanced runners
About Gold's GYM Company:
Gold's Gym company help you, people, to find the right path to keep you fit by giving satisfaction on getting the desired shape. Company is known for manufacturing high-quality gym equipment from more than 50 years. They have tried to evolve your life with guaranteed machines.
If I would say they are pioneered of this industry then yes this is right through personalization & innovation and because of this you people can transform your life. Experts help you out in creating a fitness plan that helps you, people, to reach your goals. Get their treadmills today for healthy & balanced lifestyle.
Customers Review
People are admitting this fact that this device is one of the best budget-friendly treadmills with specs. They can indeed get some other options by adding some money at the current price. Metal and molded plastic quality don't make this durable. Gold's Gym Trainer 720 Treadmill is suitable only for the walker but because of heavy doubts in body, trainers don't recommend this for fast runners.
Bluetooth connectivity is missing but other brands are offering this at the same price. Customers are not appreciating a few aspects that we have discussed with you but Gold's gym is coming up with the great quality that definitely would be a great thing for all of the beginners and advanced trainers.
Our Final Words on Gold's Gym Trainer 720 Treadmill
We know it's not easy to find out the best option when it comes to fitness but if you people are not familiar to this brand then this is a time to get to know about this on making the right decision. Great versatility of this device defiantly keeps itself stand out from the competition.
It is affordable when it comes to other brands who are offering minimum features at this price but Gold's Gym Trainer 720 Treadmill has everything that you people need. We agree to this fact that this is not good enough but it meets basic workout necessities.
Taller users may not feel comfortable but it has a lot of things to offer with multimedia compatibility by a reputed brand. Quality of overall product is not good enough because cheap plastic frame body won't run long as compared to other treadmills available in the market.