Keep up your workout routine with LifeSpan TR200 Compact Treadmill because they are committed to giving you a healthy and balanced lifestyle. No worries if you all can't buy gym membership we have brought you a fantastic machine that will boost up your morale to achieve your fitness milestones. The company hasn't worked in detail on its design, but it's still providing maximum comfort to the users.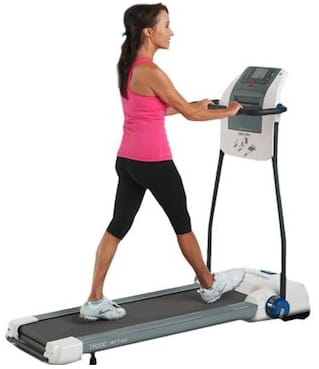 LifeSpan TR200 Compact Treadmill is a basic home treadmill to improve fitness regime. There are lots of things that we need to talk about. People who want compact equipment and easy to store they should try this one for home. Here, we have listed out its good or bad points that will help you to get to know about this as much as you need to do.
 It's a compact treadmill and yes, incredibly user-friendly. LifeSpan TR200 Compact Treadmill is easy to operate that you people will come to know here. Through this review, we are helping out people to find out either it matches your workout need or not. It would have been difficult for you to select the right equipment but take a look and decide how was our experience with this
Features of LifeSpan TR200 Compact Treadmill
Display: It is an entry-level treadmill to give you detailed information about current workout stats, including incline, speed, distance, and heart rate.
Folding: this treadmill can be easily folded and stored as per our desire either horizontally or vertically. It is convenient to store.
Heart rate monitoring: we can monitor heart rate during a workout. It is equipped with heart rate sensors with handlebars
Entertainment: Audio jack is included to allow you to use MP3 player and enjoy some entertainment during a workout.
Incline: It has automatic incline control with a maximum of 10 levels to adjust this easily. Incline speed can be easily adjusted with button controls.
Assembly: It requires no assembly, and yes, this is what we can use right out of the box.
Workout programs: It has six built-in workout programs to allow you to change the workout routine as per your desire.
What's impressive in LifeSpan TR200 Compact Treadmill?
Portability

Sound System

Heart rate monitoring

Automatic incline

Zero assembling
What's not impressive in it?
Short track length

1.5 Hp motor

Warranty

Heavy duty

Not ideal for serious workouts
Why LifeSpan TR200 Compact Treadmill has zero-assembly?
LifeSpan TR200 Compact Treadmill doesn't require any assembly because the company has taken care of this thing that it is easy to fold so by keeping its folding in consideration they have kept its assembled. A detailed manual is given, which is based on three steps that we need to follow for setup and before getting started with the first workout. Everything is preassembled, and we have to release the leavers in front.
Is LifeSpan TR200 Compact Treadmill's design worthy?
As compared to other treadmills let me tell you it has a basic design that is designed for home use and average users. It has so many essential features and the size of the running area is 48" length and 17" wide. It doesn't provide ample space for taller users to take a full running stride.
If we would say this is an entry-level treadmill, then nothing would be wrong in it because it offers a running area which is ideal for walking and jogging. While designing stability and the weight capacity is being considered with great care. Although it can carry up to 250 lbs. that comes with 1.5 HP motor for this model of Life span.
About LifeSpan
The LifeSpan company has been dealing with treadmills, treadmill desks, bike desks, and exercise equipment. Their goal is to provide high-quality products to bring innovation for inspired fitness. They have an excellent customer service to give a response of your all queries.
They have an impressive line of exercise equipment and have become the most favorite of the last two decades. Accomplish your goals with better-equipped fitness machines. They are excelling in this industry since 2001 and helping everyone to get a healthy lifestyle.
How about LifeSpan TR200 Compact Treadmill workout programs?
It offers a total of 6 built-in workout programs that is split into two categories speed and incline. To check the current fitness level, you can choose a workout program as per your desire. Program variation is doing an excellent job by bringing change in workouts. Well, by considering heart rate, you can create your personalized program. Its console is providing all the essential functions to keep you in the running. The LCD has a backlit design to keep your workout stats visible and easy to read.
What customers say about LifeSpan TR200 Compact Treadmill?
They are admiring this treadmill because it is a compact and lightweight folding design that is easy to store. Compatible with MP3 players for entertainment during a workout. Yes, it's easy to assemble and need to slide out of the box and release the leavers. Safety key is also being appreciated because majority treadmills are not having these days, and this is for reducing the risk of injury and not let you fall.
Although it has sound entertainment but has poor sound quality with lower maximum belt speed. The small running area is not ideal for taller users. Customers do not dislike this at a huge level because it is somehow serving fitness freaks at high scale.
Our Final Thoughts
This machine is lightweight and people who are looking for compact equipment need to have this. Well, as I mentioned this so many times in this review that this treadmill is not ideal for runners but walkers only. Although it is a sturdy machine to keep it last for a long time in your home gym. You all will have significant experience during a workout because it is made up of high-quality components. Among all the compact designed treadmills it is one of the best in those.