NordicTrack C 1650 Treadmill Keeps you Highly Motivated During Workouts
Well, let me tell you all that NordicTrack C 1650 Treadmill must be the first choice of every fitness freak. It is the best treadmill for home and gym. Top-quality manufacturers are offering different types of treadmills with extensive features, but one thing is appreciated about NordicTrack Company that they never disappoint us and manufacturing one of the best treadmills across the globe.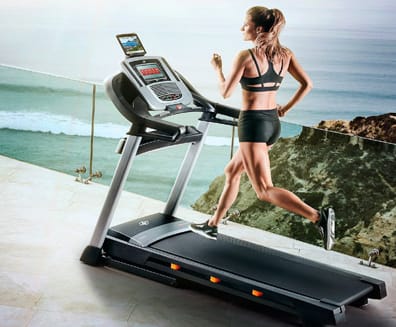 NordicTrack C 1650 Treadmill has an appealing design with built-in workout programs and yes, a source of entertainment. Ideal for walkers & runners. I was a bit lazy and wasn't starting my fitness journey, but when I came across this gadget trust me, it was super amazing. It has been seen people are not convenient with most of the fitness machines because of poor quality, noise, and bulky designs.
So, we are here and going to list down some good & bad things about NordicTrack C 1650 Treadmill to let everyone know either they should go with this or not. I know it's pretty hard to decide in this decade among top brands, but few brands have maintained their reputation in the right words just like NordicTrack. Follow us in this blog and do let us know are you going to buy this or not?
Features of NordicTrack C 1650 Treadmill
Display: Many of us are very much conscious about the display, and this is the reason NordicTrack is back with 10" Smart Display to help you in keeping stats during workout with android browser.
Cushioning: Treadmill has NordicTrack C 1650 Treadmill cushioning gives you the facility to not impact the joints while running or doing some intense workouts.
Workout programs: It has a maximum of 34 built-in workout programs to burn your calories as you want. There are various varieties of workouts as per speed, incline & calorie-burn workout. You all can try with iFit Live subscription to get interacted with world-class trainers for interactive features.
Motor: NordicTrack C 1650 Treadmill has a 3.5 CHP motor, which is ideal for even commercial users as well and can easily handle joggers & intense runners.
Entertainment: NordicTrack offers speakers with MP3 input as well. 3" speakers keep you motivated while listening to your favorite music.
Track: Treadmill has a 60" x 20" track to give you spacious space for running with flexible cushioning. It provides a fantastic time for all the joggers or runners to burn their calories as they want.
Folding technology: It is equipped with hydraulics assist to fold this treadmill easily and store this for future use. 
Auto Breeze Fan: This treadmill has an auto breeze fan that easily self-adjusts its speed to meet the workout intensity, and it's an excellent facility for users.
Warranty: NordicTrack C 1650 Treadmill has a lifetime warranty on frame and motor as well as five years warranty on parts & electronics.
Heart rate Monitoring: Well, it has contact sensors that are built-in with handlebars, and this fitness machine is compatible with Bluetooth to measure the heart rate.
Tablet holder: Do you people know it has an adjustable tablet holder to make it convenient for you all to use entertainment & fitness apps? It's fantastic. I believe such conveniences win the customers' attention.
How to access workout Programs?
We all are familiar with treadmills of different companies, and some of them have a vast range of variety of workouts, and few are failed to deliver the best to users. Manufacturers are offering 34 built-in programs with iFit subscription. This facility gives you an iFit subscription to access professional trainers across the globe.
Hundreds of workout videos can be downloaded in this to enjoy workouts. It also provides the facility to keep a track record of long-term data. All you people need to do is download a personalized workout routine and start your gym today at home without any delay.
What is an impressive NordicTrack C 1650 Treadmill?
Incline

iFit Training

34 built-in programs

Touch Screen

Heart rate monitoring

3.5 CHP motor

Audio Speakers

Space-saving design

Warranty

Running Track
What's not impressive in it?
Expensive iFit subscription

Assembly
Would it be the best pick for a long-lasting fitness machine?
NordicTrack C 1650 Treadmill is good to go for features, but it has some loopholes when we figure out this machine from the styling side as well as durability also. This machine is not durable for heavy runners, but at this price, people will be able to find some good option that goes well for heavy or light joggers. The treadmill is less durable, but if we talk about its features, then definitely manufacturers have done a great job regarding technology.
About NordicTrack Company
We all are aware of other treadmill manufacturers who have been in the industry for several years to give you people the best fitness machine. Similarly, NordicTrack is one of those companies that have been serving us for 25 years and manufacturing top class treadmills for our healthy lifestyle. Treadmills are designed to burn calories and allow you to achieve your fitness goals. NordicTrack is a leading company in treadmills that has high-end features, durable frames, and an excellent warranty.
They have been manufacturing elliptical, exercise bikes, rowers, and treadmills. The company is investing in research and development. Advanced technology is available with iFit powered by google maps, touchscreen displays which is directly connected to web browsers. NordicTrack is the best choice for people who have been looking for quality fitness equipment.
What customers say about this?
As per amazon customers, they are not finding the NordicTrack company a good enough for dealing with customer's issues because their support doesn't respond to problems soon. Assembling is a bit difficult without experts. Although there is no decline, it should be a part of all the treadmills. Customers have mixed reviews on this machine because of poor customer service. People have to wait over a month for issues to get fixed
Final thoughts on NordicTrack C 1650 Treadmill
NordicTrack C 1650 Treadmill is a budget-friendly machine and fitness freaks who are experienced runners they will find this fitness gadget best. For those who prefer heavy-duty treadmill and a long-lasting one then we don't suggest them C1650. The console is good, and 34 workout programs are giving you all a huge variety. Its will be a good selection for the advanced fitness buffs