NordicTrack C 990 Treadmill Serves all the Fitness Freaks With Highest Quality Track 
The NordicTrack C 990 Treadmill is full of features and will be best suited for all the fitness freaks who have been looking for affordable and high-end features. NordicTrack is known for high quality & impressive features rather than any other brand, and this is the reason why they have been the top priority of fitness buffs these days. This treadmill is not easy to find among other brands that offer low priced machines and low-quality features, but with NordicTrack, you will see the opposite situation. Price and the features are quite satisfied.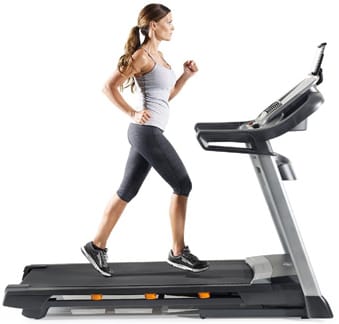 NordicTrack C 990 Treadmill helps you to accomplish your fitness goals and one of the best contributions by the manufacturer. You will come to know about so many features and good or bad points that everyone needs to know either would it be ideal for heavy or light runners? It's a bit difficult to take out some time from busy routines for the gym and even walk but having these high-quality treadmills you all don't need to go outside.
Well, with us you don't need to be worried about this. Either you would be able to find out the best treadmill or not? After reading the review of the NordicTrack C 990 Treadmill, you will be able to know its details. We are going to highlight its features and some essential things in the following section of the blog.
Features of NordicTrack C 990 Treadmill
Powerful Motor: This treadmill comes with a 3.0 CHP heavy & powerful motor that makes the fitness machine durable. Ideal for tougher workouts so you all can bring variation to your workouts.
Display: NordicTrack C 990 Treadmill comes with 7" touch screen, which is precisely the best thing for you to keep track of all the details of your burned calories and easily access workout data as well.
Speed: It provides a speed range of 0.5-12 MPH, which is an ideal speed for walkers, runners & joggers. NordicTrack has vast variety of treadmills with this speed range.
Heart rate monitoring: It has cardio grip sensors to give you accurate stats of heart rate with a chest strap.
iFit Technology: With this treadmill, you people will receive iFit coach membership to get connected with world-class trainers so you can customize workout programs as per your requirement.
Workout programs: This machine has 32 built-in workout programs to give all the fitness buffs a huge variation in their workouts. Increase your workout productivity today with NordicTrack C 990 Treadmill.
Flex Select Cushioning:  This treadmill has Flex Select cushioning not to impact your joints and providing you a smooth surface while running.
MP3 input: Treadmill comes in iPod & MP3 compatibility to keep you motivated while running. It has 2" speakers to entertain you on your favorite hits.
Weight Capacity: NordicTrack C 990 Treadmill can carry 325 lbs. The weight is an ideal choice for numerous people who want to get started with a journey.
Natural Lift technology: It has Easy Lift assist technology to help you, people, to fold up this machine quickly and store wherever you want. Hydraulic assist has made this bit easier for you to lift the treadmill.
Highlights for workout programs
We all want to keep ourselves fit and in shape, and this is the reason before buying any treadmill. We want to see the workout program details and NordicTrack C 990 Treadmill has 32 built-in workout programs. iFit subscription has made this more comfortable for you to get in touch with professional trainers by accessing unlimited workouts.
Let me add one thing here these certified workout programs are designed by the professional trainers to give variation and do exercise as per your requirement. Speed will be adjusted automatically up to 12 percent as per the exercise. A new personalized routine can be downloaded to automate data tracking.
About NordicTrack
NordicTrack has been in this industry for 25 years and aims you to keep fit & toned your body. They have been manufacturing ellipticals, bicycles, treadmills & incline trainers. No one can beat this brand in economy-priced machines along high-end features. With time, they have expanded their business and introducing the latest fitness equipment with high-end technology as well as low impact machines. Your fitness problems have got a solution with NordicTrack products.
What's Impressive in NordicTrack C 990 Treadmill?
Easy Lift Assist technology

3.0 CHP Powerful Motor

32 Built-in workout programs

iFit Enabled

Flex Select Cushioning

2" Built-in speakers

Affordable price

Auto breeze fan

Incline Speed

7-inch touch display with android browser

Good Warranty
What's not impressive in it?
No Bluetooth wireless chest strap

Malfunctions take time to recover in this

The tablet holder is not at the right eye level
Few Words on NordicTrack C 990 Treadmill Durability
NordicTrack company never disappoints us on its durability & good quality well-built machine at this price. We would recommend you to use this machine to ensure its long-lasting life regularly — an ideal device for those who don't prefer heavy running or jogging.
What Customers say for NordicTrack C 990 Treadmill?
NordicTrack has been a favorite of so many people, but they always find issues with the customer care center because they don't respond on the phone. Although it has a durable frame and relaxed cushioning poor experience with the support team may put you in trouble to get your issues fixed with ease. High-end features attract more because everyone is paying for technology, and the company knows what to offer their customers. Price is affordable but assembling is not a piece of cake.
Final thoughts on NordicTrack C 990 Treadmill
NordicTrack C 990 Treadmill is in the eyes of clients these days because of high-end features and economy price. The long track, powerful motor, and regular programming have made this favorite of so many people. We recommend this treadmill, but here you all need to know it doesn't include Bluetooth wireless chest strap, so you have to pay separately for this. Apart from these features are fantastic to keep you motivated fit.