Get NordicTrack Commercial 2950 to Enjoy Your Workout at Maximum Speed
We have seen so many treadmills for home-gym now this is a time to keep ourselves updated for commercial treadmills. Well, NordicTrack Commercial 2950 treadmill is one of the best treadmill for home and commercial use. We came across because it has all the spectacular features and it's difficult to say bad anything in this.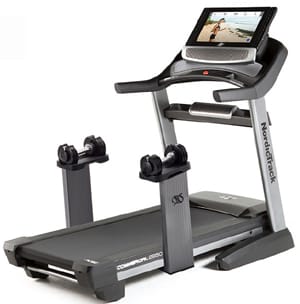 When we come across a Nordic brand, then we get to know how much this is important for everyone to get started their fitness routine today because it has spectacular features and every gym needs to have this if they are going to invest in large equipment.
NordicTrack Commercial 2950 is the talk of the town these days, and one of the good things about this brand is they always pay attention to quality and features. They never compromise over the quality, and I guess for every commercial place it's imperative to talk on. It has impressive features as well. We can have this in our home gym also.
We are going to let you know some top class features of this treadmill and if you people haven't started your gym routine yet then don't waste time because this something hard to resist for all. NordicTrack Commercial 2950 has become a must-have for your home. Take a look
Let's talk about NordicTrack Commercial 2950 Treadmill Features
.
 Motor: 

If you haven't seen any powerful motor yet then grab this fitness equipment which has 4.25 CHP motor. It is not seen in home treadmills yet.

Workout Programs: 

It has 40 work out programs, and all you need to do is to get the subscription of iFit Coach. We can select the infinite variety of google maps workout as well to let you exercise as per the given recommendation of your trainers across the globe.

Display: 

It has a 22" touchscreen to make a massive difference while seeing workout videos on a console. Trust me, you all would have a fantastic experience with this.

Running Deck: 

The purpose of running an area for this treadmill is excellent where users can get at high speeds. It has 2-ply belts also with Runners Flex cushioned deck not to impact your joints.

Weight capacity: The maximum

 weight capacity of this treadmill is 300 lbs. For all those who want higher weight capacity

Foldable: 

It is foldable and assisted by the hydraulic arm to easily lift. It can be easily stored wherever we want to.

Entertainment:

 NordicTrack Commercial 2950 has an auxiliary music port and dual speakers as well so you all can have fun during the workout. The connectivity allows you to stream other workouts and share workout data as well.

Incline: 

Treadmill has a range of -3% to 15%. You all can quickly raise the incline to 15% to burn calories and decline down 3% whenever you want.

Heart rate monitoring: 

Wireless chest strap facility makes it easier to monitor heart rate, and in the commercial treadmill, it helps everyone to workout efficiently with continuous readout.

Warranty: 

It comes with a lifetime frame warranty and 10-year motor warranty as well as 2 years warranty on mechanical parts and labor.

Accessory Tray: 

You all can keep the items in this accessory tray, including a remote, towel to keep it safe during a workout. It also has a cooling fan.

Footprint: 

This machine is sturdy enough, and it is not compact as we used to see a budget treadmill would be. You people would see it doesn't consume much space as it seems to be.
What is impressive in NordicTrack Commercial 2950 Treadmill?
Big Touchscreen display

Powerful Motor

High incline

40 built-in workout programs

Deck cushioning

Free membership of iFit coach for a year

Space-saving
What's not impressive in it?
Expensive fitness machine

Require time for assembling
About NordicTrack
Among numerous treadmill manufacturers when it comes to making a selection for NordicTrack, then this is something on which we can trust with eyes closed. They have been in the market for the last 25 years and bringing so many variations in designs and technology. Nordic just brought treadmills, exercise bikes, ellipticals and more. The reason for the success of this brand among fitness freaks is durability and innovation in technologies.
What are customers saying about this?
NordicTrack Commercial 2950 is expensive than any other average treadmill, but the price is not only high because it provides stunning features that should have in any treadmill with a durable and robust motor. It makes your workout comfortable with powerful fans and entertains you with amazing speaker quality. Well, if I would say this treadmill has made user's life easier then yes, it is. Large display with easy navigations is so helpful for everyone to use.
Where to buy?
There are numerous platforms that offer this machine, but it's up to you either you buy this from Amazon or buying directly from the manufacturer. It saves you time as well as they provide free assembling as well that is much required.
Our Final Thoughts
NordicTrack Commercial 2950 is one of the top treadmills that everyone wants for their home gym, and the brand serves all the fantastic features that should be on every treadmill. Although it is costly but hard to resist if you all can afford it. High-end features are grabbing the attention of everyone either you talk about the incline, display, speed, motor, technology, workout programs, and much more. It doesn't make any noise and strongly recommended for you all who are looking for a treadmill with a fantastic feature. If you haven't decided to grab this yet, then we give you thumbs up. Add this to your home gym to achieve your fitness goals.