Fitness Freaks might be searching for something great for their home gym, and yes, we have successfully brought something fascinating in the form of NordicTrack X22i Incline Trainer Treadmill. No matters how much weight you want to lose, but Nordic Fitness Company has decided to bring you back in shape to help you out in achieving fitness goals.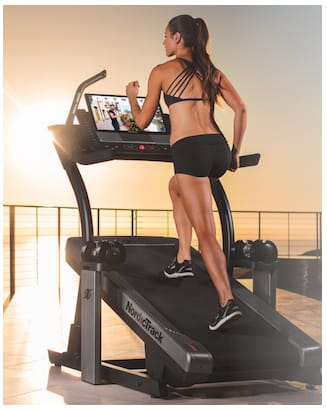 Trust me, you haven't seen such high sturdy the best treadmill ever, but here we are going to let you know about NordicTrack X22i Incline Trainer Treadmill which is super amazing, and if I would tell you all about mine experience then it is satisfying all your workout needs from challenging to most natural. When I had to buy the treadmill, then nothing was really up to the mark among hundreds of brands but after doing some detailed research and I got this machine.
NordicTrack X22i Incline Trainer Treadmill is a commercial trainer that is ideal for home gym as well. It has so many features to grab all the fitness freaks' attention, and you all can enjoy fitness at a high level. Are you looking for the safest treadmill? Nordic is highly durable and doesn't impact your joints while running and walking. It gives you confidence, and you will enjoy the workout.
Let's talk about of NordicTrack X22i Incline Trainer Treadmill
Motor: It has great & powerful motor of 4.0 CHP that supports to toughest workouts. It has a silent motor and gives you an excellent experience.
Push Bar: People who are new to this treadmill they will be happy to see it hassled grips and push bar that keep your muscles strong. Whatever the speed you want, you can put it into the manual mode.
LED: It has a 22" HD smart display with a water-resistant feature. You people can easily see workout data and can access the touchscreen with one button.
Workout programs: you may haven't seen the vast variety of 44 workout programs to give you multiple variations to your workout. Huge variation is available to help you out in selecting workout as per distance, burned calories.
Incline: This treadmill offers you maximum incline up to 40%, which is a most significant challenge. It helps in a burning major amount of calories.
Heart rate monitoring: It has an adjustable chest strap to track heart rate. There are handlebar grips to find out the heart rate.
Built-in Speakers: There are built-in 3" speakers to enjoy a workout while doing workouts. Connect audio by plugging-in audio jack.
Cushioning: of NordicTrack X22i Incline Trainer Treadmill has reflex cushioning not to impact your joints whenever you take a stride.
Weight Capacity: Nordic Track can carry up to 300 lbs. weight. So people with approx. This weight can enjoy their workout.
Warranty: Treadmill offers a 6-years warranty on electronics and a 3-year labor warranty. Motor & frame will give you a lifetime warranty coverage.
What's Impressive in of NordicTrack X22i Incline Trainer Treadmill?
Durable steel frame

Workout fans

iFit Bluetooth technology

Heart Rate Monitoring

22" HD display

Speed range of 0.5-12 MPH

Powerful Motor 4.0 CHP

44 Workout programs

3' Inch dual speakers
What's not impressive in it?
Expensive to buy

Not Foldable and heavy to move

iFit subscription
About Nordic Track Company:
Nordic Track Company is one of the leading companies that have been in this industry for 25 years. They aim to give you a healthy and balanced lifestyle. They manufacture bicycles, elliptical, bikes and much more to keep you fit. iFit subscription is also available with their devices to keep you connected with professional trainers across the globe. NordicTrack is a leading brand for serious athletes and fitness freaks. Get these products across the world. This brand is one of the top preferences of everyone because they always consider the comfort of people to help them in achieving their fitness goals.
What customer says about this?
People appreciate another effort by NordicTrack because this treadmill is fantastic in everything. It has advanced features for all types of workouts. With 40% incline, they can bring so many potentials in their fitness. This is definitely for them to enjoy fitness without impacting pain in joints. Amazon and other online forums are full where people are saying so many good things for their fitness adventure.
NordicTrack never failed to impress their clients, and this is the reason it is the ultimate choice of people for almost 25 years. Although it's expensive where we get such features, we shouldn't compromise for cost. Another thing that we come across it's heavy and difficult to move. Apart from these two, we have never found any malfunction complain about this fitness equipment.
Final Thoughts on NordicTrack X22i Incline Trainer Treadmill
Well, this treadmill, no doubt, offers impressive features for workout training. Although it has a strong motor with a widescreen as well as iFit coach subscription. We all are familiar with NordicTrack; they always come up with exciting features. Yes, it is a fantastic machine and offering us so many amazing features which is difficult for us to imagine. 44 built-in workout programs have made your workout sessions super amazing and provide so many variations for continuous progress.
Now you don't need to repeat the same workout program daily. So much change is all set to give you a chance to burn calories rapidly. It's a bit costly, but when it comes to features, we shouldn't compromise over the price and NordicTrack never disappoint us in their outclass products. Its powerful motor is another thing that has successfully grabbed the attention of everyone, and for professional trainers, this was most wanted, and NordicTrack has provided fitness buffs for enjoying its amazing features.