ProForm Performance 600c Treadmill is Everything That Every Fitness Freak Need
It's a time to get started our workout with ProForm Performance 600c Treadmill. We all want some efficient & high-quality home gym equipment that should help out us in reducing weight without any extra effort. While having such efficient best treadmill for home use we don't need to go out for running on roads and paying heavy fees to the gym for getting the assistance of professional trainers. ProForm fitness company always come up with such solutions that give us everything at an affordable price.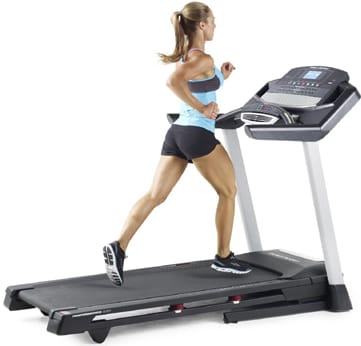 ProForm Performance 600c Treadmill is something that I always want at an affordable price and it is affordable. Well, this was hit or miss for me I am going to let you here in this blog that will be a treat for all the fitness freaks who have just started or have been doing for years. They going to love this piece of equipment for a home gym.
You must be thinking there are lots of treadmills are available at this price by some other companies then why I am excited about this? We all know ProForm company never disappoint us and they have been in this business for many years then we should take a look at this masterpiece that is crafted for people who want to have healthy & balanced lifestyle. ProForm Performance 600c Treadmill has everything for you just take a look and do let us know was it worth it for you or not?
Let's discuss ProForm Performance 600c Treadmill Features
Compact design: Well, this one is a good thing in ProForm Performance 600c Treadmill it has a compact design and saving space as well. We can easily fold this equipment where else we want to save the space. If I would say it has space saver design then yes, it is.
Workout programs: It has 22 workout programs and certified by professional trainers to worth your sweat. IFIT live is integrated to get you connected with professional trainers all over the world. Easy to access on the console anytime whenever you want.
Motor: It has a 2.5 CHP motor for smooth & quiet walk and running. Get your hands on this today for valuing your efforts while losing weight.
Incline Adjustment: We can adjust incline manually to 12% for a better & lower impact of the workout.
Backlit Display: It has a 6-inch backlit display on the console that gives you people easy to read in bright or low light environments. It gives detailed Stats including distance, speed, time & burned calories.
Entertainment Port: It has a music port & sound system option is available to keep your mood fresh on your favorite hits.
Warranty: The best thing about ProForm Performance 600c Treadmill is a lifetime warranty on motor & frame. You will get two years of warranty on mechanical parts.
What's impressive in it?
Powerful Motor at this price

6" Display LCD

IFit Compatible

22 workout apps

iPod Compatibility

Compact design

Includes Cool Aire fan

Tablet holder

12 mph Top speed
What's not impressive in it?
Bit Noisy

Poor Customer Service

Difficult to assemble

Thin Track

Not contains heart rate monitoring
What Customers Think About This?
Before heading towards customers reviews let me tell you this treadmill is available on Amazon and all the famous equipment stores. You people can get in touch with ProForm fitness company as well they will deliver the original product at your doorstep as well.
ProForm Performance 600c Treadmill is accepted by those who want some sort of economical equipment and if we talk about the issues as we have already discussed in the not impressive section. One of them is not easy to assemble that we all want. ProForm fitness company is not impressive from a customer service point of view.
Although the machine is a bit noisy but apart from these things. This machine is recommended by most of the customers. The main reasons are its affordability and durability that we shouldn't skip at any cost and, it can be recommended further.
Our Final Thoughts on ProForm Performance 600c Treadmill
Well, I was very careful about choosing a treadmill because we never get what we pay for so I decided to check some low cost and efficient treadmills. ProForm Performance 600c Treadmill came before my eyes recently because I was looking for that gym equipment which is a high-end product with rich features and warranty aspects for a home gym. So finally going to review this because it has been people always criticize expensive products because they are high in budget and overburden for pockets.
Let me tell you one thing, this is the best option for walkers but not suitable for advanced runners because I believe advanced runners don't get satisfied at affordable machines. Their expectations are always high and always get suggestions from their trainers to invest in high-end machines.
Although it has 325 lbs. user weight capacity which is a good thing and I always appreciate this in ProForm products. They do have a maximum user weight capacity. For those who have been looking for economical options, ProForm Performance 600c Treadmill is worth buying. With such treadmills, we can have workouts on heavier speed and we will be motivated too for much more in the future.
I would say this one is an excellent choice for budget-minded people who have been investing in poor quality equipment but fail to impress anyone else. We are recommending this turdy machine for home use which is easy to use and equipped with a vast range of features at this price. 
All you people need to do is to work out on this daily either for power walking, jogging & running. It has a variety of programs that give us the motivation to change our workout routine as per the programs. Always follow the expert advice and go for a recommendation because it's not suitable at any cost to push your body to beyond its level.