Stay Fit and Smart With ProForm Power 995i Treadmill
Are you ready to get your hands on ProForm Power 995i Treadmill? Great news for all the fitness freaks who were searching for some extraordinary gadget for their fitness they can take a look at this machine. We all want some budget-friendly options and this machine is best for buyers. If I would say one of the great equipment loaded with tons of features then nothing would be wrong in it.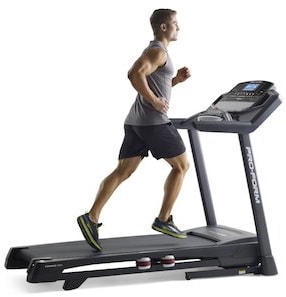 ProForm Power 995i Best Treadmill has greater incline ability to right fan positioning. This is the best treadmill under $1000. Among so many other competitors these treadmills come out at the top. For those fitness lovers who want to keep their selves fit & slime they definitely need to have this today in their home. 
This treadmill is integrated with topnotch features which is hard to find in such price. Enjoy Pleasant experience for a workout. ProForm Power 995i Treadmill is worthy enough for your budget. It has a solid warranty with excellent features. In this blog, we are going to let you know why this treadmill is a must-have for your home gym and why this is an ultimate choice for all the professional trainers. 
Let's talk about ProForm Power 995i treadmill Features:
Motor: The motor of ProForm Power 995i Treadmill is 3.0 CHP. It has a smooth tread belt as well. Speed & incline transition fluid speed up the workout. Its maximum speed is 12 MPH and ideal for professional trainers as well.
Deck Area: The dimension of the running deck is 20" x 60" It is ideal for running & jogging. Taller users can easily use this whenever they want without any hurdle.
Weight Unit: ProForm Power 995i  Treadmill weighing unit is 300 lbs. 
Incline: Treadmill has greater incline level from 0% to 15% than other competitors' fitness equipment. Users can burn calories quickly and can work out efficiently.
Workout programs: You won't imagine that it has 30 different built-in programs to achieve fitness goals. Just scroll all the workout programs and select the desired one. 
Display: It has a 4.5" wide & 1.5 high LCD. Runners can easily track their workouts which is easy to navigate with a series of buttons. Choose whatever program you want to choose. 
Heart rate Monitoring: This fitness machine has two handle grips to let you know about heart rate.
ProShox cushioning: It includes ProShox deck cushioning which is ideal for elders who have joint problems. It gives flexibility because of the hydraulic system.
Fans: Do you know how much this is difficult to keep yourself cool while workout? It has cooling fans that keep you cool and it is positioned at user's face.
Speakers: It has 2-inch speakers to give all the runners entertainment. You can listen to music without putting headphones. It also has higher volume options.
Console: Its console allows you to monitor the time & workout speed. It shows incline level, heart rate, walking belt speed, elapsed time, burned calorie & completed the distance.
Tablet Holder: It has a water bottle holder & Tablet holder as well.
Connectivity: ProForm Power 995i Treadmill has smart Bluetooth connection and we can also connect a smart wireless receiver for heart rate monitoring.
iFit enabled: We can check it out on google map different exercise sessions. Make sure if the subscription is required then you have to get a subscription.
Warranty: You can get a lifetime warranty on frame & motor, 3 years warranty on mechanical parts & 1 year on labor.
What's impressive in it?
Easy assembling

Sturdy Frame
Clear Manual Instructions
Ideal running deck for taller users
30-Built in programs

Easy Lift Assist
What's not impressive in it?
Bad Customer service

Require iFit Membership

Bulky Fitness equipment

Chest heart rate monitor isn't included

Improper Information over the display
About ProForm Company:
Proform is the best company who gained people attention in a very short time frame. They are known for integrating the latest technology. Company has already engineered affordable products which have infused latest iFit technology. Known for world best treadmills manufacturers past 30 years. They also produce Elliptical, Exercise bikes & HIIT trainers.
Final Thoughts on ProForm Power 995i Treadmill
For those who want to add this in their home gym then ProForm Power 995i Treadmill is the one that we all fitness freaks can consider seriously. I haven't found out such a machine at this price. Runners used to have great experience with top speed 12 MPH & incline average is up to 15%.
This powerful machine I evaluate is not ideal for those who are interested in walking & light jogging. It definitely helps out you people to achieve fitness goals. Robust & durable frame can be easily folded. ProForm Power 995i Treadmill is a space-saving design. 3.0 CHP powerful motor of treadmill gives wonderful experience to all the professional trainers as well who are looking for a valuable machine.
Customers Review
People have found out this a sturdy treadmill which is light enough with greater incline levels at this price range. Treadmill with tons of features at an affordable price is the only ProForm Power 995i. Lifetime warranty on frame & motor is the thing that they are not going to worry about this.
ProShox cushioning has reduced the impact on joints. ProForm is not known for good customer quality and the other problematic thing is improper information over the display. ProForm has lost its credibility somehow because of poor customer service.
 Its attractive console is a favorite of every professional trainer. If you are spending such a huge amount on the treadmill then definitely it should have a wide range of features. Few customers named this machine overrated or overpriced model at such price. Some trainers recommend this machine only for walking.