Get easy to use Schwinn 830 Best Treadmill for your Home Gym
Schwinn 830 Best Treadmill is all you need for your home workout
Get the Schwinn 830 Treadmill less than $1000. Are you looking for some best treadmill options? Schwinn 830 Best Treadmill is not in a top three list of but one of the decent & affordable treadmills. It is a popular & versatile option that has so many features which is not only for home runners but can be add in gym equipment for advanced workouts.  Do you know what lacks in it? There are so many features which is missed in this price and we saw those features in an upgraded version of Schwinn 870.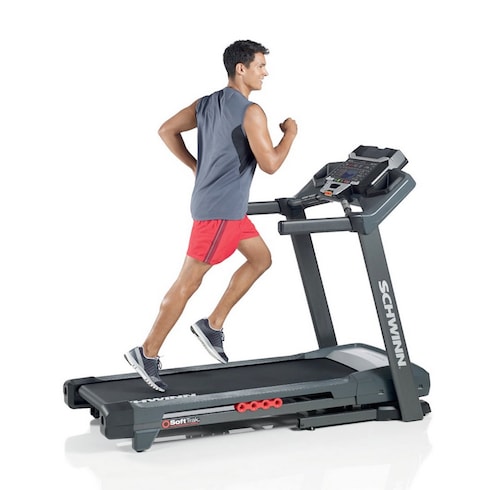 Schwinn 830 Treadmill is available at affordable price meeting the highest standards of a treadmill despite some missing features it has gained the attention among fitness freaks. Well, it's comfortable for jogging & walking but not ideal for running.
Treadmill price is varying over time but Schwinn 830 the best treadmill will cost you to $1000 plus tax.  Trust me, this machine values your money and give you the desired shape that you all want. It might be harder for everyone to make their selves used to such fitness routine but after having this machine I found workout bit easier than anything else. Great gift for the fitness lover and they won't be disappointed with this gadget.
Let's have a look at features:
Dimensions: Schwinn 830 Treadmill has dimensions (L x W x H) 72.2 x 35.2 x 57.6 (~183.4 x 89.4 x 146.3 cm)
Allowed weight: Maximum allowed user weight is 300 pounds and it is not recommended for heavier users.
Space-Saving: It can be folded and unfolded easily and one of the space-saving gym equipment. With the required wheels it can be moved around the home. We suggest you keep it at a fixed place where it can be used regularly. If you want to give yourself a little bit of entertainment then place this treadmill in a TV lounge where you can watch TV or do some other activities while walking.
Wide Belt: Its belt is 20 inches wide & 55 inches long and we must say this is enough for the taller user but people who used to take long strides this will be a little bit shorter for them. In such price range, 55 inches long belt is a good enough.
Motor: 2.75 CHP motor provides smooth walking & running. Enjoy the maximum speed at home but it has been seen in this price range treadmills used to have a motor with 3.0 CHP so this thing is not being appreciated by the runners. It allows standardized speed 12MPH
Warranty: It gives 1-year labor warranty & 10-year frame and 2 years on mechanical parts but other treadmills offer life-time warranties.
Folding: Schwinn 830 Best Treadmill can be easily folded because of hydraulic system support.
Console: It has a large console with blue backlit display. It helps to measure time, distance, calories, incline level, speed, goal tracking & record of last 7- or 30-days workout. Isn't so amazing?
Workout programs: It has 22 workout programs with 1 manual, 3 quick goals, 3 weight control,5 heart health and 2 custom programs.
Incline: This feature helps to optimize the calorie burn. It let you burn calorie as a runner would at zero slopes. It's pretty much simpler to define lower body muscles.
What's Impressive in it?
75 CHP motor
Power Incline to maximum 12 mph
Heart rate control
Detailed workout stats
A USB port for data export
300 maximum weight capacity
Folding Frame
Ample room for jogging
22 Built-in training programs
High-quality Belt
Power Incline
Shelf for books & Tablet or Smartphones
Three-speed workout fans
Easy to use
What's not impressive in this?
Limited Warranty
Faulty Electronics Part
Non-durable deck
About Schwinn Company:
Let me add something about the Schwinn company. This company was founded in 1895 and has gained a foothold in the fitness industry with some amazing fitness equipment for all the fitness lovers.  The brand always considers the people conveniences with the rich quality workout programs with performance tracking option.
Our Final thoughts:
If we talk about the budget $1000 is one of the best choices among other treadmills. Free workout programs & special features are also available. Schwinn 830 Best Treadmill has some perks like power incline, wireless heart rate, charging port & other features are not seen by other brands in this price range. Warranty is not that much good as compared to another treadmill. It seems a pretty good machine that has the capability of 300 pounds. It also has some great safety features.
As compared to other products the model has a thinner deck which is not appropriate for the hard-core runner because it would produce more noise. Excellent product for those who have limited budget constraints. I would say Schwinn 830 Best Treadmill is the entry-level models which is good for the beginner but advanced trainers or joggers need to save up their pocket for other options. Get this
Where to Buy?
You would get the product over various Platforms like Amazon, eBay, and Walmart but we suggest you to directly contact with Schwinn they will answer your queries and help you people by telling how to handle any issues.
Customer's review
People are loving this machine at an affordable price but users like me are having difficulties in assembly. Instructions are not clearer over the manual and it takes an hour to assemble. If I would say a cheaper option with tons of features than nothing would be wrong in it. It keeps them coming back for the advanced workouts also.