Treadmill Overview:
The Nordic Track T 6.5 S treadmill is one of the affordable treadmills found in the market. Nordic Track is a well-known company in the fitness industry for producing quality products. And the Nordic Track T 6.5 S is one of the company's most well built and inexpensive models with all the features you want in your cardio machine. This is considered as an entry level home treadmill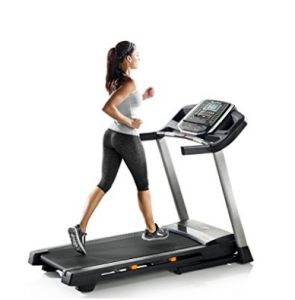 great for weight loss, cardio and interval workouts for everyone. It has folding and space saving design which is convenient for home use.
Its solid steel frame and deck can accommodate up to 300 lbs. The Nordic Track T 6.5 S is equipped with 2.6 CHP motor, speeds up to 10 mph and get incline 0%-10%. The running surface of most Nordic Track treadmill has FlexSelect cushioning system which provides a smooth surface for runners but it can also provide a firm surface like a road when you want.
The Nordic Track T 6.5 S treadmill is iFit compatible. With iFit you can directly monitor your workout progress with Google maps program. The treadmill has an excellent console with 20 built-in programmes and is also iPod compatible. You can listen to music while exercising through double speakers. The Nordic Track T 6.5 S has all you need.
Features and Footprint
Item weight: 203 lbs
Length: 73"
Width: 35.75"
Height: 67.5"
Motor:
It is powered by a 2.6 CHP powerful motor with a 25 years warranty that provides consistent power during workout sessions without sudden interruptions. It delivers a quiet and smooth drive system with self-cooling capability.
Frame:
Treadmill frames are made of aluminum and steel. Steel frames are considered better than the aluminum frames. And the NordicTrack T 6.5 S Treadmill's frame is made from steel.
Belt:
Treadmill's belt is durable and its dimensions are 20 inches width and 55 inches length. You can jog or run over it quite easily if you are looking for a belt that will accommodate your height. The belt is cushioned to prevent your feet free from swelling and soreness when you jog or run for long periods.
User weight capacity:
This treadmill comes with ua ser weight capacity of 300 lbs. It is fit for all types of runners whether heavy or light. But if you are less than 300 lbs this is for you.
Speed/Incline:
It provides max running speed of 12 mph and it can incline up to 10%. It is best for most joggers. And during running, you can easily control your speed and incline at a touch of a button in seconds. Its quick and responsive system to control your speed and incline allows you to focus on your workout. This treadmill slowly builds up speed to make start easy and its speed incline is smooth both for upward and downward incline.
FlexSelect Cushioning:
Its large running belt 22" x 55" is equipped with FlexSelect cushioning system which can turn on and off when you want. When the cushioning system is on the deck becomes more cushioned and smooth to reduce the impact on your joints, knees and ankles.
And when it is off the deck becomes rigid to give you a firm surface like running on the road. You can make adjustments when you want with a simple turn. This feature provides you workout sessions with different intensities and feel.
Easy Lift Assist:
With Easy Lift Assist technology it is easier to fold, clean and transports your treadmill after use. This is the perfect option to save your time and energy in folding and bending as Its deck lounges comfortably and relaxed when you want to fold the treadmill once you are done. Its space saver design is best if you have space limitations.
 Console:
This model has an excellent console. It has 20 built-in workout programmes designed by an experienced trainer. These programmes are used to burn body fat and fitness of the cardiovascular system. Moreover, if you subscribe to the iFit training programme, you can get much more fitness programmes, nutritional guidelines and video tutorials. It is a pleasant and prettily designed console that suits your room appearance.
And there are control buttons to select the programs of your choice when you want. These one-touch keys are quite easy to use. You can continue your workout sessions without any difficulty in operating this treadmill.
5" LED Display:
This treadmill comes with 5 inches display screen to monitor your performance. You can track your speed, incline, distance, calories burned, heart rate and pace. With this data, you can evaluate yourself to make necessary changes in your workout sessions and attain your desired goals.
iFit Technology:
iFit Technology is a paid subscription. With this iFit programme, you can access google maps to make your workout sessions more productive. This iFit technology makes it possible to get access to hundreds of extra programmes apart from inbuilt workout programmes. You can compete with your friends by this iFit compatible model. You will get a new work out every day and it allows you to achieve your specific goals quite easily.
Heart Rate Monitor:
For quick and accurate heart rate reading dual heart rate monitor sensor are built into both handlebars. These cardioGrip sensors allow you to stay in your target heart rate zone. You will have to adjust your speed if your heart rate is not according to your set goals. Happy you will get satisfactory results.
Excellent Sound System:
NordicTrack T 6.5 S treadmill comes with iPod player port and dual speakers.  The iPod-compatible sound system allows you to connect your iPod or any other device to sound system and enjoy your favourite music from dual 2-inch speakers. Listening to music while treading activity makes your workout exciting. But this port cannot charge your device so make sure your device is fully charged before you plug in.
Warranty:
NordicTrack T 6.5 S offers a lifetime warranty for frame, 25 years for the motor and one year for parts and labour.
Final Words:
NordicTrack is a known company that produces quality treadmills with many features to suit the customers' needs. The NordicTrack T 6.5 S treadmill is very budget friendly .model manufactured by NordicTrack. This treadmill is considered as entry level home treadmill appropriate to achieve your moderate fitness goals.
Its good sized motor provides quite an operation. The Nordic Track T 6.5 S required very little maintenance and offered an excellent warranty. It is iFit compatible and has automatic incline with a max speed of 10 mph. The console provides many different workout options without letting you bored. The Nordic Track T 6.5 S treadmill is a well built and an excellent treadmill offering an excellent value for the price.