Get to know about the best socks to keep feet cool and dry. Well, how many of you have been looking for the best socks to keep your feet cool and dry? We all have been facing this issue might be for years, and this is embarrassing as well. The only trick we used to follow is to regularly change socks and take off shoes to avoid damp and sticky feeling, but this is not a permanent solution.
Do you know what is the reason behind? Socks are the main reasons, so it's essential to find out the right one for your feet that may keep your feet dry and comfortable. Are you ready for the best socks to keep feet cool and dry? We are going to share some good quality manufactured socks that are easy to find, and you all need to have this to avoid sweaty feet.
Best Socks to Keep Feet Cool and Dry Available at Cheap Rates
1. PowerSox Cushion Crew Socks with Coolmax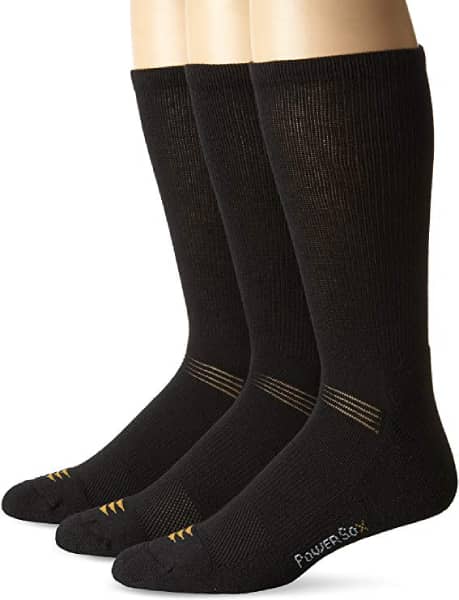 These are the best socks in the town that has 44% Coolmax polyester, 38% cotton with 2% spandex. It has strike zone cushioning with reinforced toe. You won't find such breathable material socks anywhere else. These socks are comfortable and have been a choice of people for several years. If you haven't bought these socks yet then grab it today. These socks are lightweight and quickly dry your feet.
2. Drymax Run Hyper Thin No Show Socks
Drymax Run Hyper Thin Socks are made up of 73% olefin, 11% polyester, 11% nylon with 5% elastane. You will find them lightweight and one of the best running socks. We all know moisture discomfort athlete's foot and odor cause bacteria. It also keeps the feet wet from sweating. Socks are designed with a particular layer moisture Removal system that easily wipes off the moisture. These socks are thin with lightweight cushioning. Trust me; you would love this. Go and grab it for comfortable feet.
3. Bridgedale Ultralight Coolmax Liner Socks
Coolmax fiber is combined with endurofil for soft. These socks are knit with soft Coolmax microfibers that wipe off moisture and perspiration. It doesn't have bulky cushioning and gets fit with everyone. Perfect choice for extra comfort and hygiene. It transfers moisture away from the skin to keep your feet warm and comfortable. We have found these boots ideal for work boots, hiking, and any outdoor activity.
4. Swiftwick Performance One Golf & Running Socks
These socks are lightweight and have high-performance fiber that wipes off moisture and instantly dries the feet. Provides ventilation for increased breathability to damp issues. Nylon reinforced heel and toe to keep your feet comfortable and incredibly soft. It contours your foot and will stay in place. Keep you active all day and comfortable with its medium cushion.
5. Balega Silver Antimicrobial No-Show Compression-Fit Running Socks
It's a great combination of dynamic polyester 75%, Nylon 23%, and Elastane 2%. Its blend features fibers and knit patterns provide compression and support. Medium volume cushioning ensures comfort as well as durability. It prevents blisters and chafing to keep feet clean and dry. These socks are manufactured with the best yarn of the industry to keep your feet free from odors and fungi.
6. Darn Tough Hiker Merino Wool Micro Crew Socks Cushion
Are you looking for socks of merino wool? Get Darn Tough socks that allow you to give the best performance. It's deep cushioning underfoot helps you to keep your feet fresh and rejuvenated. If you are planning for a hiking tour, then don't forget to have this. It's pretty affordable, and you will feel comfortable during your trip. Well, we have concluded these socks are best for all occasions you don't need to keep this only for hiking.
7. Wigwam Men's At Work Double Duty
These socks are made up of acrylic, nylon, Olefin, and wool. Best for those who want to get rid of the odor. We have found this ideal for more relaxed workplaces. It provides a fully cushioned foot for you for the whole day. Get it today for the comfort of the foot.
What do you need to know before buying socks to keep feet cool and dry?
Here we are going to share what do we need to consider for buying socks that may keep feet cool and dry.
Waterproof
Whenever you go for buying socks, then make sure that you have checked its waterproof ability because it will protect your feet from getting damp again and again. It has a waterproof layer that covers you from heavy rain or other activities, even in light rain.
Breathable Feature
Waterproof socks have b breathable membrane as well with a molecular structure that enables us to stretch the socks. With breathable protection, you all will not face the overheating issues anymore. For socks, it must have the breathable feature not to make your feet sweaty all the time.
Material
We all have come across various materials that are ideal for socks but do you know material composition plays an important role. Nylon material keeps socks durable, and it doesn't have the capability of absorbing water as other material can do. Choose lightweight material that shouldn't be problematic anymore.
Right Size
We all need to know the best socks will get fit only if you will have it in the right size, so get the socks as per your foot size. These socks are available in all possible sizes by the manufacturers.
Care instructions
Whatever socks you buy should read out all the care instructions either it is simply machine wash in cold water. Suitable for any liquid detergent and what should be preferred to dry. Readout instructions carefully.
Best cushioning
Usually, we don't pay attention to cushioning features, but it's an essential thing because it won't swell feet and ankle socks let you feel breezy in hottest weather.
These are the best socks that we have found here to keep your feet cool and dry. If you haven't bought any one of these yet, then go and grab to protect your feet from odor, cracks and sweaty feet. Act wisely while selecting material for socks because it plays a vital role to keep it smelling fresh.
Also Read: How Long After Donating Blood Can I Exercise?