Overview ProForm ZT6 Treadmill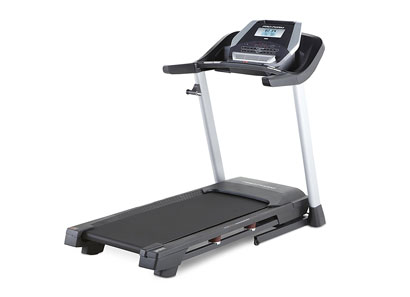 ProForm is a well-known name of famous fitness equipment manufacturer in the fitness industry ProForm ZT6 Treadmill is one of the quality product introduced by the ProForm and among the most affordable treadmills for home and gym use. This is specially designed for moderate workouts such as walking and jogging. It has 2.5 CHP Mach Z Commercial powerful motor. It can get speed up to 10 MPH and incline up to 10%. Just with one touch control, you can change settings easily. The deck is provided with ProShox cushioning system and 4 shock absorbers beneath the deck. This combination reduces stress on your knees and ankles so that individuals who are experiencing back or knee pain can run or walk easily.
The ProForm ZT6 Treadmill has 18 programmed workouts designed by specialists to make your workout exciting and convenient. The treadmills console is also iPod compatible. And now you can enjoy your favourite music with ProForm ZT6 treadmill during your workout sessions through built-in speakers. To reach your fitness goals ProForm ZT6 treadmill offers you 18 programmed workouts designed by specialists. You have different options to choose from. The treadmill's space saver design is best for home use as it has an advantage of easy folding. The ProForm ZT6 treadmill is an excellent choice in this price range.
Product Features:    
Product weight: 203 lbs
Running surface: 20"x 55"
Height: 56"
Width: 36"
Length: 68"
Max user weight: 320 lbs
2.5 CHP Mach Z Commercial Motor: The Mach Z Commercial Motor is an efficient electromagnetic DC motor that stays cool through toughest workout sessions and creates a high level of inertia forsooth feel. Its motor is built with high- grade, powerful and durable components great for heavy use. You will experience a quite in- peaceful home workout.
Tread Belt: The ProForm ZT6 comes with a 2-ply belt. This is a very decent feature in this price range. Belt width is 20-inches and length is 55-inches. You can fully stretch your stride over this large deck while running or jogging.
Frame: Treadmill's frames are made of aluminium or steel. The steel frame is better than aluminium because steel parts fit tighter than aluminium and produce less noise. The ProForm ZT6 treadmill has a steel frame.
 Max Speed: You can walk, jog or run up to 10 mph because not everybody likes to run at 10 miles per hour. Its quick speed buttons allow you to adjust your intensity immediately. You can stay focused on every step of your workout without any interruption.
Max Incline: The ProForm ZT6 treadmill offers your incline up to 10%. This feature does not come with all low priced treadmills. You can easily adjust your incline at the touch of a button. By increasing incline level when walking or jogging you can burn more calories and get toned muscles.
ProShox Cushioning: The ProForm ZT6 treadmill is equipped with cushioning system throughout the deck area. So you'll be able to enjoy your workout with less stress (up to 28%) on your joints, knees ankles and feet.
18 Workout Apps:  The ProForm ZT6 offers 18 in-built programs designed by certified trainers. Three programs are for calorie burning and weight loss while other 15 focus on endurance, incline and speed.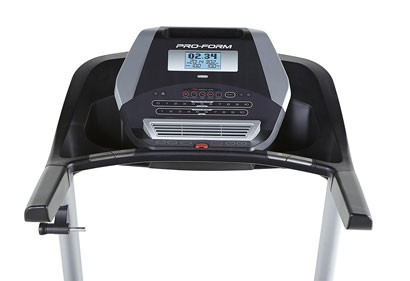 LCD Display: The ProForm ZT6 treadmill offers a large backlit LCD display. Display readouts include incline level, speed, distance, heart rate, time (Elapsed/Remaining), ¼ Mile track and calorie burned. You can see your workout status and get more motivation by tracking your progress.
Heart Rate Monitor: Now you can easily monitor your exact heart rate during the workout by dual pulse grip sensors built into handlebars on the side railing. Its digital console will give you reliable and consistent feedback after some seconds after holding these railings.
Sound System: The ProForm ZT6 provides iPod compatible sound system with 2-inch speakers for listening to your favourite music during the workout. You can plug your iPod, smartphone or iPhone into music port for more excitement and fun.
Space Saving Design:
Its folding design can fit into smaller space. Its deck can be lifted up quickly so you can store the treadmill after use to save the space.
Accessories: Additionally there is a water bottle holder, a reading rank and a two-speed fan which keeps you fresh during workout sessions.
Warranty: Before buying any treadmill you first look at warranty provided. The ProForm ZT6 treadmill offers a lifetime warranty on frame, 25 years on motor and 1year on its parts and labour. This is very acceptable in this price range as compared to other models of the same range.
 Summary of ProForm ZT6 Treadmill:
Finally, ProForm ZT6 treadmill is worth considering treadmill in this price range. It is a perfect choice for walkers and joggers who want to buy a home treadmill with enough features and programs. It is quiet and smooth in use and satisfies all of your needs for a great workout. Its solid and well-built frame, smooth running surface, the motor of enough horsepower and belt with right dimensions make it of great value while its price is entry-level. Its wide range of built-in programs makes it possible to achieve your goals quite easily. So it's a very budget friendly treadmill with all the features which you want in your treadmill.