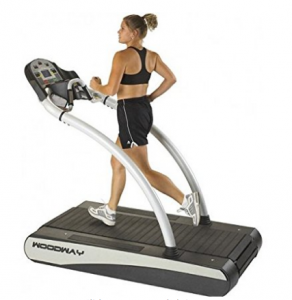 The Woodway Desmo-S treadmill is one of the most innovative, comfortable, durable, and heavier treadmills found in the market. Because of all the features, it posses it is considered as the most well built and expensive treadmills. Woodway is famous for their smooth and durable belt design. Woodway's manufacturers develop a frictionless running surface with conveyor belt style. Each Woodway treadmill is committed to providing most comfortable and long-lasting solutions to all fitness levels. Woodway Desmo S treadmill is mostly recommended to professional runners and athletes for continually training their bodies for competition and endurance due to its, powerful, muscular and tank-like durability. It comes with 500 lbs running weight and 800 lbs walking weight capacity. Don't worry about your height and weight you will get full running stride over here. The Woodway Desmo S has one of the largest running surfaces, i.e. 22"x68". Absolutely feel free while running or walking on world's most comfortable and safe running surface.
The Woodway Desmo S Treadmill offers you 22 workout options. These include 12 unique programmed workouts. This treadmill also gives you options to track your intensity by heart rate grip sensors and a polar chest strap. There are also handles to control your speed and incline. So, changing intensity was not so easy before.  Its largest running area that is 22"x 68"is enough for tall and big people with their natural pattern of gait. No worries how much heavy you are. It will remain stable at 500 lbs running weight and an 800 lbs walking weight. Woodway Desmo S treadmills are built to last. Its motor provides 2 CHP power with 12.5 mph speed and can elevate up to 15%. By changing intensity, you can control your speed and incline. No matter if you are a beginner or a professional you will get every type of workout. It gives you a lot of exercise options that you will never bore at all.
Product Features:
Product Footprint: 72" x 35" x 64"
Product Weight: 445 Lbs
Running Surface: 68" L x 22" W
Motor: The 2 HP continuous 5 HP peak servo drive brushless motor
Deck: Toothed, wire-reinforced lateral belts and rollers – zero stretch and zero slip
Belt: 60 individual slats with vulcanised rubber surface of 35-40 shore hardness.
Drive System: 116 precision ball bearings including 10 guide bearing – 4 mm lateral tolerance.
Speed Range: 0-12.5 mph
Incline Range: 0- 15% Grade
Max user weight capacity: 500 Lbs running, 800 Lbs walking
Power: 110V and 120V
Programmes: 12 workouts
Heart Rate: polar monitor circuitry/contact HR display
Handrails: dual handrails with switches to control speed incline and to stop.
Additional features:
Emergency stop magnet and safety lanyard
Optional 13" and 15" TV screens.
LCD Display.
Quickstart capability.
12 built-in programmed workouts.
Fitness Tests (Balke, Gerkin, Cooper & Rockport)
Military Tests (Army, Navy, Air Force & Marines)
Goal Program
Weight Loss Program
Aerobic Program
Interval Program
Random Program
Stamina Program
5K Program
10K Program
Ramp Program
Heart Rate Control
10 user-defined programmable workouts.
Display readouts include: Time, Vertical Feet, calories burned, Mets, pace
(Minutes/Mile), distance, heart rate and elevation.
Warranty:
Frame: Lifetime
Motor: Lifetime
Parts: 5 year
Labor: 1 year
Final words on Woodway Desmo S treadmill;
Finally, Woodway Desmo S treadmills are world's most excellent treadmills. You will feel the difference in your first step. It is considered as one of the most expensive treadmills in the market retails as close to $10,000. If you can afford it, this is best to buy. This treadmill is incredible fitness equipment for home, gym as well as clinics. There are many well build and quality treadmills, but the quality of Woodway Desmo S treadmill is tough to beat. It is hard to find any other treadmill constructed better than Woodway Desmo S. It offers you best options to buy it. Such as, its highest quality components would last up to ten times longer than any other conventional treadmill. You will not stop yourself from appreciating its world famous smooth and most comfortable running surface. Its slat belt is highly durable. 60 slats are combined to make 22"x 68" belt. Without a single belt change, it lasts up to 150,000 miles, no need to adjust the tension of the belt. It offers you the lowest maintenance cost along with 50% of electrical savings. The area of belt accommodates all body types. It is 68" long and 22" wide. Tall and wide people can easily walk or run in full stride without having fear to fall out. Its shock absorption technology protects your joints and tissues from injury.
Other conventional treadmills have the weight capacity of 200 t0 250 ponds. Woodway Desmo S treadmill offers you weight capacity of 500 lbs for running and 800 lbs for walking. It gives you an idea that if it remains stable with this weight bearing capacity how heavy it would be as compared to other treadmills. It has the highest mechanical ability and is virtually indestructible. It is specially designed for professional runners who take their workout very seriously. It is typically used by professional sports teams and athletes for Olympic training facilities and for military training. The 2.0 HP motor provides continue power with speed range of 0-12.5 mph.
So, when you talk about the quality and excellent overall features, you will not find another treadmill constructed better than Woodway Desmo S treadmill.  If you want to buy world's most durable and powerful treadmill, this is for you.