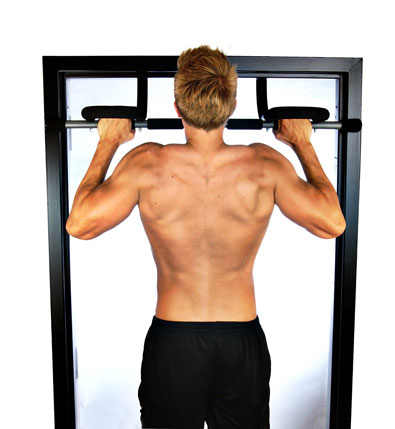 Stamina Doorway  Trainer Plus bring all these necessary that will make you physically fit. For maintenance of our body, exercise could be part our life. For the good maintained of your upper body, pull-ups are one of the best body workouts.  Best pull up bar make your body more fit and healthy. We can say that exercise is a special key to your life, improve physical wellness and general health.
A pull up bar is a special tool which you can use by your own strength. On pull up bar the user can a verity of exercise for weight loss and developing muscles of the shoulder, arm, back, chest and other parts of the body. Stamina Doorway Pull Up Bar Trainer provides all facilities that you want to look forward.  You can do easily and comfortably your regular workout. This pulls up design is very simple and useful which show a great result by workout.it has good padding for a comfortable grip.
Stamina Doorway Pull Up Bar Trainer Plus provides the best workout four upper bodies on and off doorframe. There are three grip position and two hammer grip position. Doorway Pull Up Bar can be set on the bottom level for sit-ups and/or crunches to work the abdomen and for pushups. Its weight capacity is 250 Ibs. It will be safe for your workout. You will feel comfort and safe with this capacity of 250. In short, you are 100% secure as long as you are in the range of the required 250Ibs. You will get a workout for the upper body through all these features.Have a look at it's all features, benefit, and quality.
Features:
Simple assembly, portable and attaches/ you can remove easily from the doorframe
Heavy duty with a 250 lbs. and weight capacity
Durable steel construction
Portable and fits most doorways
Dimensions: 37 x 16 x 11 inches
Easily fits all standard doors
Can be used for push-ups, sit-ups, pull-ups, triceps and dips Weight: 8 pounds
Comes with non-slip grips and thick padding
Five grip positions allow you to build and tone upper body muscles
Sturdy steel construction with thick padding and non-slip comfort grips
Push-ups Versatility
 Professional quality, heavy duty training tool supports up to 250 pounds
Pull Up/Chin Up Grip Positions:
Neutral
Wide
Sit-Ups & Crunches
Narrow
Push Ups
Triceps Dips
Doorway Requirements:
Workout Options:
Chin Up (Reverse Grip)
Neutral
Wide
Width: 27" to 35" wide
Pull Up (Overhand Grip)
Hammer Grip Pull Up (Palms Facing)
About Stamina:
Stamina was established in 1987. They have focused on the fitness with utility and valuable thing. They were one of the best and the first developer of infomercial then they brought home names such as Jack Side, Suzanne Somers, Tony Little and Denise Austin.
Easy to Assemble and Install:
It is too easy to assemble all these tools and equipment. Even that there are a lot of reviews state who are poor at best.  In other words, Stamina Doorway Pull Up Bar Trainer Plus will take just 15 minutes to assemble and install. Fitness Gear doorway Chin-Up bar is a good way of upper body workout that will be helpful for you while exercising due to its complication
Easy to construction:
Stamina Doorway Pull Up Bar Trainer Plus is easy to move from one place to another.  You can select any right place or can do your workout comfortably and easy. It will be really suitable and perfect for the development of muscles.
Final Suggestion on the Stamina Doorway Trainer Plus:
The price of Stamina Doorway Pull Up Bar Trainer Plus is all about to 59.99$. Through this a perfect and suitable price you can get a bit different tool and can be used for a long time. You have to measure the door opening then it will be going well for you. The Stamina Doorway Trainer is more than just another pull-up/chin bar that will take you to the next level of fitness right in the comfort of your own home.